Indications for Penile Implant Surgery
A penile implant is a medical device that is surgically-inserted inside of a man's penis to allow him to achieve an erection.  Typically, physicians recommend penile implants when all other treatments for Erectile Dysfunction (ED) have failed.
Is the implant surgery detectable to others?
The surgical incision is about an inch long and is located underneath the scrotum, so there are no readily visible surgical scars on the penis. The small size of the incision also allows the patient to recover easier and faster from surgery.
After surgery, the patient will stay for a few hours in the recovery room to make sure that they are recovering well from surgery. While in the recovery room, the patient will be assessed often to make sure that they are "waking up" from the anesthesia. Afterward, depending on how the patient is recovering, he may be sent home, or he may be admitted for observation in the hospital.
What to expect immediately after surgery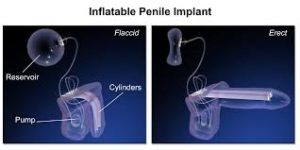 It is common for the patient to experience bruising and swelling a few days after the surgery. Swelling is expected to subside after 7 to 14 days. Pain typically subsides at around the same time as well. The patient will be prescribed pain medications, as mild pain is expected to persist for a few weeks after the surgery. The pain is then expected to subside slowly. However, if the pain persists or worsens, the patient must immediately notify their surgeon. The patient may also experience some constipation due to the pain medications that he is taking. In order to avoid getting constipated, laxatives may be prescribed. Alternatively, the patient can also increase their fiber intake by eating more fruits and vegetables as they are recovering from surgery. There are no diet restrictions for patients recovering from penile implant surgery. However, he must keep in mind that his body is working hard to repair itself from surgery. Therefore, the patient must consume a balanced meal that will help to promote healing.
Aftercare at home
They will also be given an antibiotic to take at home for about a week to help prevent infection. While recovering, the patient may be asked by their physician to keep their penis bent upwards, towards their belly button to avoid a downward curvature of the penis.
The patient will most likely have to spend the first two days recuperating in bed but will be required to get up and do some light walking for at least three times a day. They will also have to refrain from vigorous exercise and any sexual activity until they have checked in with their doctor. After two weeks, the patient may return to their surgeon to have the stitches removed. At this time, the surgeon may also begin to instruct the patient how to properly use their newly implanted device. It usually takes about one week until the patient can return to work and 4-8 weeks until he can resume sexual activity.
If you would like to know more about how penile implants can benefit you and your partner, contact Dr. Larish today at 212-541-6239 and schedule your free appointment. To find out more about penile implants, visit our website at fifthavenueurology.com.